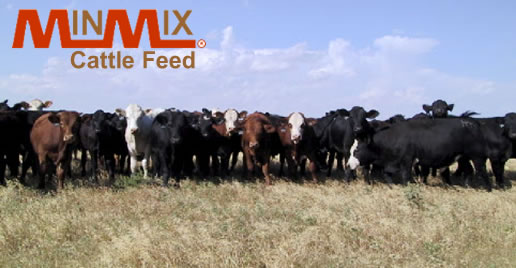 MIN MIX SUPER START with Ru-Min-Ade
The feedlot operator or rancher who wants a highly palatable weaning or receiving ration to help cattle overcome the effects of stress and to encourage feed consumption should feed Min Mix Super Start. With a highly fortified trace mineral package that includes vitamins and state-of-the-art yeast cultures, Min Mix Super Start will provide a nutritional boost to your stressed calves.
---
This feed is designed to be fed to beef cattle.
GUARANTEED ANALYSIS
Crude Protein, Minimum
11.0%
(includes not more that 2.5% equivalent protein from non-protein nitrogen)
Crude Fiber, Maximum
27.0%
Vitamin A, Minimum
5,000 IU/lb.
Vitamin D, Minimum
625 IU/lb.
Vitamin E, Minimum
4 IU/lb.

CAUTION: This feed contains urea. The equivalent protein supplied by the urea should not exceed 1/3 of the crude protein of the total ration. Use as directed for beef cattle only. Provide fresh, clean water at all times. WARNING: Do not feed to cows producing milk for food.