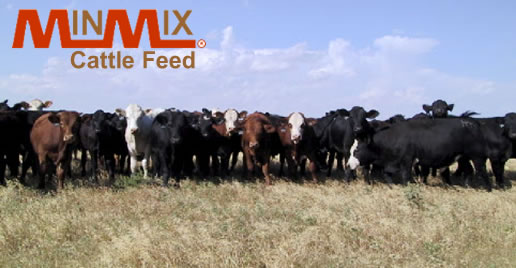 MIN MIX QUICK START
The feedlot operator or rancher who wants a highly palatable weaning or receiving ration consisting of "all natural ground grain mix" to help cattle overcome the effects of stress and to encourage feed consumption should feed Min Mix Quik Start. With a highly fortified trace mineral package that includes vitamins and trace minerals, Min Mix Quik Start will provide a nutritional boost to your stressed calves. A variety of drug options is available to added to Min Mix Quik Start.
---
This feed is designed to be fed to beef cattle.
GUARANTEED ANALYSIS
Crude Protein, Minimum
12.5%
Crude Fiber, Maximum
14.0%
Vitamin A, Minimum
6,000 IU/lb.
Vitamin D, Minimum
2000 IU/lb.
Vitamin E, Minimum
8 IU/lb.