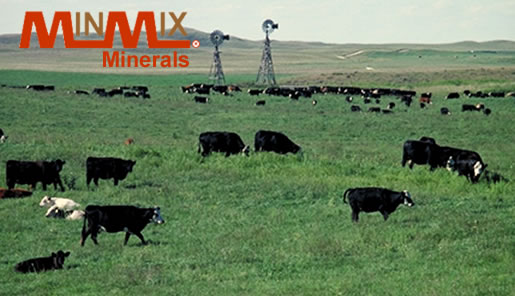 Kow Kountry Medicated Mineral 4000 grams per ton
Kow Kountry Medicated Mineral is designed specifically for the cow-calf producer. Highly fortified, Kow Kountry Medicated Mineral has a 1:1 calcium-phosphorus ratio and furnishes optimum levels of vitamins, trace minerals, and yeast cultures to help ensure cow maintenance, rebreeding, and calf production requirements are met. Chlortetracycline is added to this mineral for the aid in control of infections susceptible to Chlortetracycline.
ACTIVE DRUG INGREDIENT
Chlortetracycline
2 grams/lb.
GUARANTEED ANALYSIS
Vitamin A, Minimum
120,000 IU/lb.
Vitamin D-3, Minimum
15,000 IU/lb.
Vitamin E, Minimum
100 IU/lb.
1:1 calcium-phosphorus ratio for free-choice feeding to cattle on pasture.
Contains CTC to assist reproduction efficiency and control of low-level diseases including anaplasmosis.
High level fortification of Vitamin A,D, and E.
High levels of zinc, selenium, manganese and copper and other trace minerals.
For cattle with high phosphorus requirements:

Heifers and cows in late pregnancy
Lactating cow with calf
Weaned calves

Palatable loose mineral - desired intake range of 2-4 ounces per head per day.
Additional salt may be added to regulate consumption.