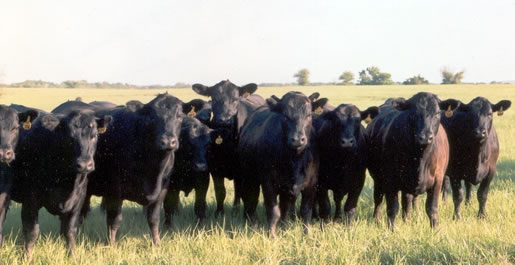 Min Mix Minerals the Cattleman's choice,
"Top 10" Reasons for Success
1.) EXCELLENT PALABILITY - Cattle will consume Min Mix Minerals at a 3-5 ounce per head per day level. Drug additives do not effect palatability.
2.) CONSISTENT CONSUMPTION - The daily consumption of the "right amount" of mineral is important. It is important to keep adequate supplies of mineral in front of the cattle at all times.
3.) EXCELLENT WEATHERABILITY - Min Mix minerals can be fed in open feeders or bunks with little of no effects from moisture.
4.) 0.3# EXTRA DAILY GAIN - A significant amount of EXTRA weight that turns directly into PROFIT to the producer.
5.) 30# - 60# EXTRA WEIGHT AT THE END OF THE GRAZING SEASON
6.) $20 - $50 EXTRA PROFIT PER HEAD
7.) STRONG TRACE MINERAL, VITAMIN, AND "BUG BUILDER" PACKAGE - The use of sequestered trace minerals and multiple ruminant digestive aids enhance the digestive process allowing for greater nutrient use - hence more gain!!
8.) CONSTANT TREATING OF RUMEN - 2-4 TIMES PER DAY - WITH LOW AMOUNTS OF IONOPHORE.
9.) ADDITIONAL ADDITIVES MAY BE ADDED AT MINERAL FEEDER FOR ADDED BENEFITS
10.) MIN MIX IS A PROVEN PERFORMER FOR CATTLE ON PASTURE.