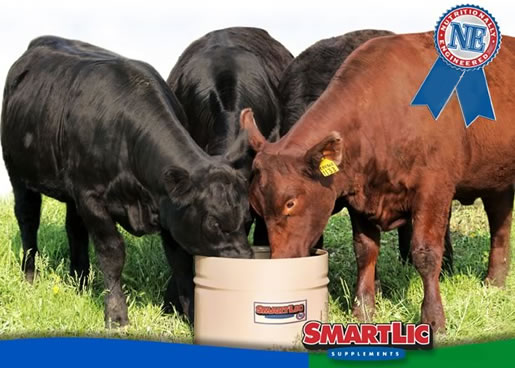 SmartLic NE-Natural 20
Nutritionally Engineered® product containing all-natural protein and completely mineral-fortified. This unique supplement is second to none when compared to other types of low-moisture blocks. This block is the product of a state- of-the-art-patented process that provides a unique 24-hour feeding system. NE-Natural 20 is an exceptionally dense all-weather block that will give you the most for your money. Here's how:
Economical: A low feeding rate of .50 to .75 lbs/head/day means lower feeding costs (on a per head per day basis).
High Mineral Fortification: This supplement is mineral fortified eliminating the need for additional free-choice minerals, resulting in feed cost savings of 5¢ to 8¢ per head per day.
Weather Resistant: The patented, "continuous flow" system creates a quality, low-moisture, exceptionally dense block that maintains its integrity even in hot, humid weather or precipitation.
Minimal Labor: SmartLic® supplement is easy to feed. Simply place the blocks in areas of easy access to the cattle.
Returnable Steel Tubs are economical and environmentally friendly.
DOES NOT CONTAIN NON-PROTEIN NITROGEN
When all-natural protein is desired for your cattle, then NE-Natural 20 is the smart choice. This product contains only natural protein sources. NE-Natural 20 is recommended when ammonia-treated forages and rations are already part of the diet. NE-Natural 20 is ideal for young or growing calves (400 lbs. of body weight or less).
THE IMPORTANCE OF TRACE MINERALS IN NE-NATURAL 20
Based on 3/4 lb intake, NE-Natural 20 is highly fortified with vitamins and trace minerals. NE-Natural 20 contains up to 125% of the new NRC nutrient requirements for trace minerals.
For feeding instructions, fortification information, guaranteed analysis and ingredient listing download the NE-Natural 20 product sheet PDF!